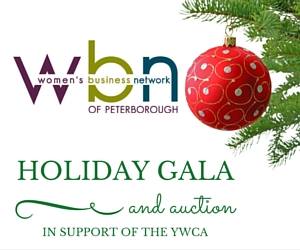 This past Spring, I joined the Women's Business Network of Peterborough (fondly known as the WBN) to meet new people in our community and find out about resources available for entrepreneurs. The WBN ladies were so warm and welcoming that they didn't even let me officially become a member before asking if I'd like to get involved as a volunteer! But as anyone involved in a community organization knows, the best way to make connections and get the most from a group is not by simply showing up to events — it's by jumping in, helping out, and getting your hands dirty. (Metaphorically speaking, of course…)
Luckily, there was a perfect opening for me with the WBN's Communications Committee, and I'm thrilled to have joined this hard-working group. The WBN is currently preparing to host its annual Holiday Gala & Auction event, taking place December 2 at the Holiday Inn, which will serve double-duty as the last meeting of 2015 for members as well as an exciting fundraiser for the YWCA. Members of the WBN and generous sponsors from around Peterborough and the Kawarthas are donating items for live and silent auctions, through which the WBN hopes to raise $15,000 in support of the YWCA's Crossroads Shelter. I had the opportunity to contribute to the event with a press release sharing the details with our community.
Women in the Peterborough area are encouraged to attend the Holiday Gala as guests — registration is open until Friday, November 27, and can be completed online at womensbusinessnetwork.net. Or, if you're interested in donating an item to the live or silent auction, please contact the WBN or the YWCA. I'm very much looking forward to attending the Gala as a special way to kick off this holiday season, while supporting such an important cause.