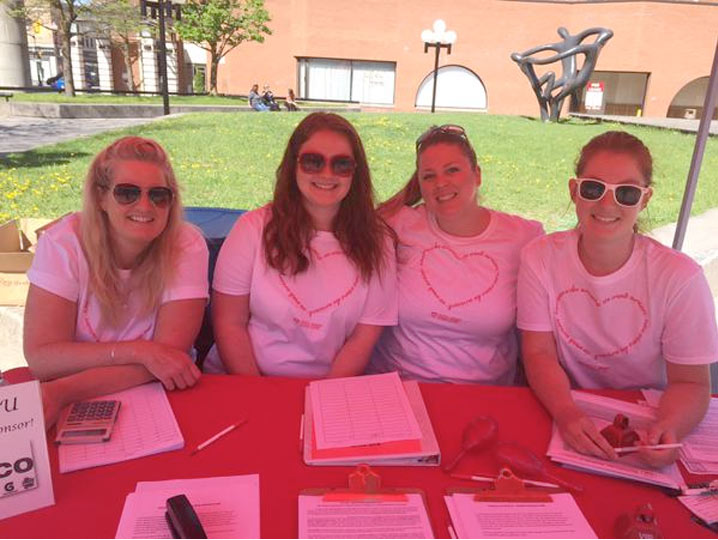 Early in May, I saw a post on Twitter putting a call out for volunteers to assist with this year's Big Bike for the Heart and Stroke Foundation. If you've never seen the Big Bike, it's something to put in your calendar for next year. I participated in the Big Bike event years ago as an undergraduate student in Guelph, ON, and it's a memorable way to cap off a great fundraising campaign.
Having helped to run many a fundraising event in the past as a non-profit employee (if you recognize the word "voluntold," you know what I'm talking about!), I called Peterborough's Heart and Stroke Foundation office and got in touch with the lovely Sara Lunn, who coordinated this year's Big Bike events, as well as their Jump Rope for Heart initiative in many schools.
I was able to sign up to help run the registration table for two days' worth of Big Bike outings in downtown Peterborough, stationed in the courtyard behind Peterborough Square. If you saw my fellow volunteers and I alternating between shivering with cold and jumping up and down with noisemakers to cheer on the Big Bikers, thank you for joining in the cheering!
We got to meet so many amazing community activists that week, with teams participating from large companies like Pepsico and GE, the team from PRHC, and smaller organizations like the Peterborough Huskies – who stepped up to join the Big Bike for another team, cycling after theirs, who didn't have enough members at first. What a great example of community spirit!
Thanks to Sara and her team at HSF Peterborough for letting me join in the fun and give back for a few days.